Building a website that satisfying customers' needs with super appealing visuals usually called this site is having good UX and UI design.
o what's the difference between UX and UI design (or let us say difference between user interface and user experience)? And how they end up working together!
Before knowing the difference between them and how they working together to deliver users or visitors the best experience and interactivity they dreamt about.
Let's take a deep look into each one of them and what's the goal of each designer in web design.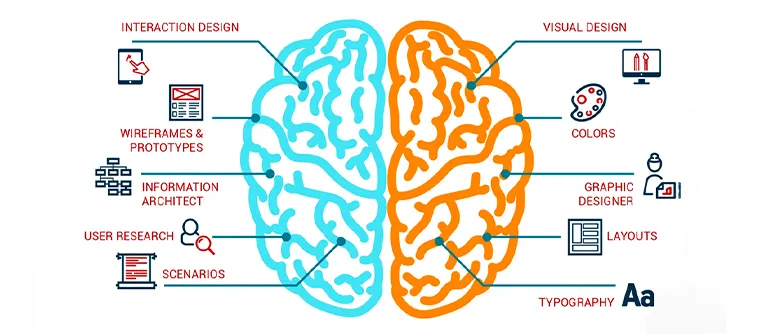 What's UI?
UI design or user interface design is always about interactivity. Once you hit a site link or search result entering a page or even downloading a mobile app then starting to register and navigate.
Since then everything you are dealing with, seeing or even hearing digitally is about UI.
If you had a WOW feeling at first glance then this site has perfect UI and the more you dig and navigate the more you'll be impressed by the visuals, animation and more.
Usually UI designers are dealing with concepts as they are responsible for the presentation of the product or service of specific company, digitally.
Their magic wand is about a sleek layout, visual appealing pages with taking in consideration that each page aligns in relation to others, functionality of screens and touchscreens.
Sound (Specially the voiced-based ones like some mobile apps), lights, keyboards, buttons, icons, easy navigation, where to place our logo and how the website will give an intuitive feeling.
Another essential elements that user interface designer can't go through the process without defining them like colors and typography.
What's UX?
Even the UX design comes first when start working on an actual website, but you need to know that People tend to develop UX design (user experience design) after UI (user interface design).
They felt that something missing as even the website is super interactive and an eye candy to every visitor but how they feel about such interactivity? Are they satisfied with the experience they get using our website or it's just dull?
The answer here was UX design. As it's about meeting the users' needs and solving their problems.
UX design is the process where the designer research, develop and fully define all users' interaction aspects with a product or service of a company online or even offline, including customer service and more.
They have to make sure that users after interacting with the company product digitally. Now they're having a positive experience. Not negative or even neutral. It's not about being entertaining but being useful, giving value and building credibility, seamlessly achieve the desired outcome.
Here we come to Peter Moreville UX design usability honeycomb which become the solid base for a Professional UX design and its best practices.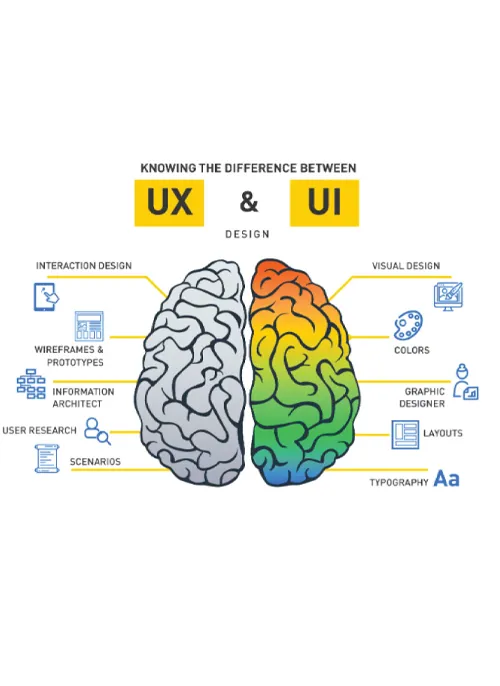 Which discussing how the users will discover your company's product (website), what's the sequence of actions they take while interacting with your site interface.
Feelings and thoughts arose while they try to achieve their desired outcome on achieving their goal and finally the impression they had from the interaction as a whole.
That's why UX designers tend to work closely with UX researchers, marketers, UI designers and product teams to fully understand their users.
Through doing research and experimentation, using insights that based on quantitative and qualitative user research.
What's the Difference Between UX & UI Design?
After knowing more about UI and UX design we guess you catch it up!
Now the difference between UX and UI design is crystal clear.
As UI design is meant to visual and sound elements that result in simply layout of catchy designs and colors and the site interactivity.
While UX design is about spending fruitful time, getting what you seek easily which motivating you to visit once again.
Imagine visiting a food-listing site to choose and order your tasty dinner. In such case you may be very hungry and no food at home or you're at work and want something fast.
In both cases you've no intent to wait for slow performance or long ordering journey.
So even the site has super mouth-watery images about food, but taking too much time to load a single one, you will get frustrated and quite immediately searching for another ones.
Simply UI is like user's bridge to get specific destination while UX is the feeling of the whole journey after crossing the bridge.
That's why UX is meant more about the concept of how things is going to work out with the user while interacting with the elements and aspects of the interface.
But UI is more about "fashion" as how our website will look entertaining and elite within a series of snapshots.
Reflecting the brand image and working with specific color palette, font sizes and more.
Don Norman and Jakob Nielsen about the difference between UX and UI design:

"The UI is obviously an extremely important part of the design. As an example, consider a website with movie reviews. Even if the UI for finding a film is perfect, the UX will be poor for a user who wants information about a small independent release if the underlying database only contains movies from the major studios"

But the essential difference between UX and UI design… is goals!

As UX designer goal is to motivate the user while having a useful journey on the site enjoying it, and how to delight the user. When coming to the UI designer goal it's about what to include or exclude of the givens to start his art work spell on layouts, smooth navigation to superbly interact with the user.

How do UX and UI Work in a Flow?

>

Despite the difference between UX and UI design they end up together!

As both designers should work together in any new service or product (website) for the company in a smooth sequence.

As once the UX designers take a brief about the idea, the company and the product or service they will design the website for.

They start doing a research about the competitors' sites or apps, collecting data about users' pain points (problems) and exploring user personas in-depth.

Then defining the core features of the site or app and creating a site map and initial prototype.

They working also on wireframes in a continuous test and refine process to finally convert those them into mockups.

UX designers always focus on the structure and value out of the journey, so research and refining is a long-term process to them along the whole project.

Then UI designer role comes to an action, as he start working on the site or app appearance including images, buttons, logos, links, icons and on-screen forms.

He's asked to unleash his creativity but within the frames of UX outputs. He may having some limitations over the guideline, design and interactivity.

Both designers like two sides of the same coin as you may visit a super beautiful site but completely unusable.

While visiting another one of great idea in theory but difficult to navigate and very confusing and in both cases you will quite with no comeback.

Keyword: Difference Between UX & UI Design

References: hubspot.com